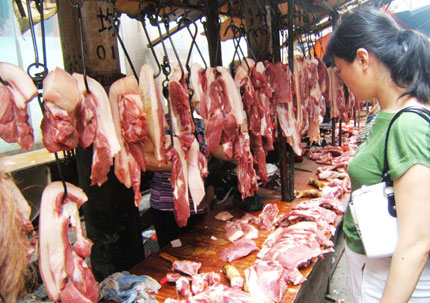 The price of Pork in China is soring - what are the implications and ramifications?
The Pork story is a fantastic illustration of just how Chinese economy is set up to cope with the vagaries of capitalism. Terms such as "strategic reserve" show how the old system works and then the fact that many pig farms shut down because of low prices when previously they would have remained open.
Consumers are also having to adapt to rapidly changing prices. What the Chinese are learning quickly is that capitalism has it's down side. A stockmarket crash will ram this home more forcefully when and not if the bubble bursts.
Rising pork prices in China signal pricier times worldwide
The Chinese government is struggling to cope - including deliberating whether to sell a snuffling, smelly strategic reserve of hundreds of thousands of live pigs kept at special subsidized farms for precisely the shortage the country is now facing.

Chinese officials offer several reasons for the high pig prices. The cost of animal feed has risen by one-quarter in the last year, partly because more corn is being made into ethanol and partly because more prosperous workers are eating more meat.

The cost of pig veterinary medicine has soared. Some pig farms, shut down because of low prices last year, were unprepared for strong demand this spring. And outbreaks of disease have killed many pigs, though no reliable estimates of how many are available.

The most recent statistics from the Agriculture Ministry show that prices for live pigs rose 71.3 percent in April from March, while pork prices climbed 29.3 percent. The price of pork followed pig prices higher in May as well, to the dismay of shoppers.

../

The Commerce Ministry keeps a national reserve of frozen pork and live pigs, and local governments keep their own reserves as well, constantly selling older supplies and procuring fresh stock. Government agencies pay a pig subsidy to farmers to keep their animals in the program.

Then there is the knock on effect on inflation:
China's inflation rate hits 27-month high in May
China's inflation in May hit the highest level in 27 months on rising pork and food stuff prices, raising the pressure on the central bank to raise interest rates.

The Consumer Price Index (CPI), a barometer of inflation, rose 3.4 percent compared with the same period of last year, the National Bureau of Statistics said Tuesday, beating the three percent target set by the People's Bank of China for this year.
Other stories:
Pork price rises fuel China inflation fear
[Financial Times 28th May]
A disease killing millions of pigs in China has sharply lifted the price of pork, the country's staple meat, fuelling fears about inflation and prompting a call from the top leadership for increased production of the meat.

Wen Jiabao, premier, provided confirmation of the seriousness of the crisis with a weekend visit to a market in Shaanxi province, where he said farmers should help "resolve the problem" of providing meat for 1.3bn people.

Pork prices have risen by as much as 30 per cent in Chinese cities over the last week. According to the agriculture ministry, wholesale prices for pigs have gone up even more, rising 71.3 per cent since April.
Pig disease sweeps 22 provinces
[China Daily 12th June 2007].
The highly pathogenic blue-ear disease hit 22 provinces during the first five months of this year, killing 18,597 pigs, the country's chief veterinarian said yesterday.

Also known as Porcine Reproductive and Respiratory Syndrome (PRRS), the disease was found in 45,858 pigs, leading to the culling of 5,778, said Jia Youling, director of the veterinary bureau affiliated to the Ministry of Agriculture.